It seems that due to the amount of weddings I had published last year on various wedding and bridal blogs and magazines that work out of a hub called Two Bright Lights in 2011 I placed in the top 5% of all of their membership and have been selected as a 2012 Editors Choice Award Winner.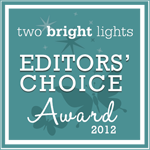 Now I'll admit most of the time I don't put a lot of stock in these things – I've received awards from some wedding sites for having just a single positive review, and of course if you're sucker enough to pay for advertising on some of these sites (cough cough the knot cough cough) your almost guaranteed to get some kind of web badge/award.
I rather like this one though since it shows that a wide variety of various wedding sites, blogs, and magazines liked the work I submitted well enough to print it.
Of course not a lot of credit for that goes to me, most of it goes to my clients, their wedding planners, and the amazing wedding vendors they used to create their wedding – all I did was document what everyone else did. 🙂